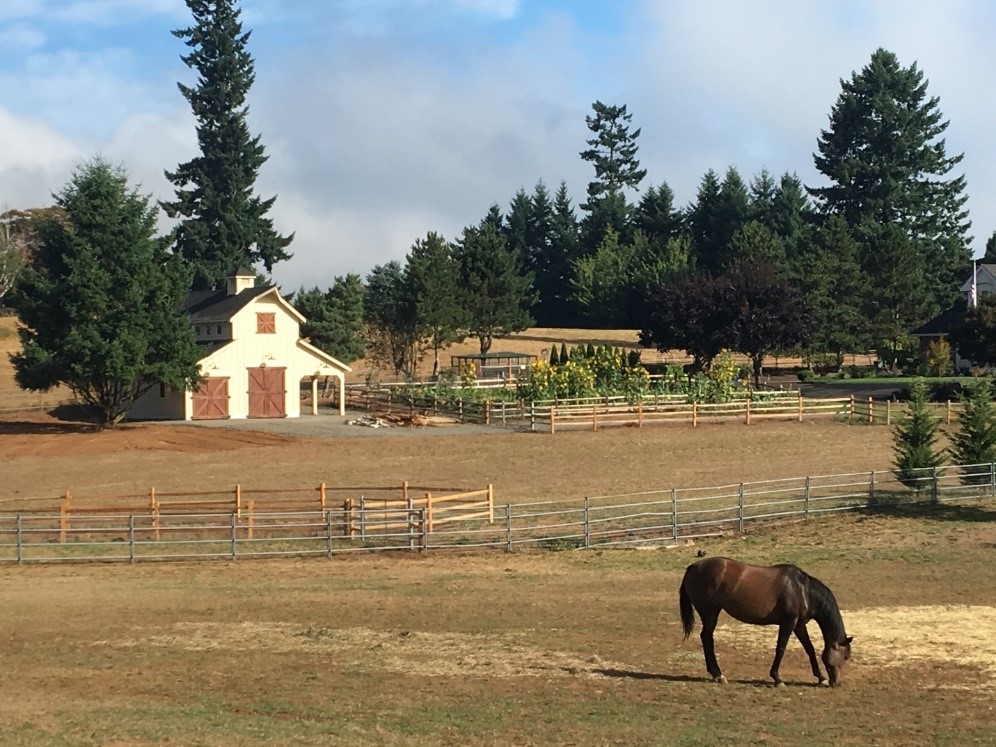 The James family has a beautiful property with a huge garden, pumpkins, sunflowers, vegetables, and chickens.  They had been looking for someone to build a barn for several years.  One day, their realtor told them about Stafford Structural Concepts and Design.  They met with Paul and talked about designing a barn for some sheep and possibly a horse.  The idea evolved over time and the Stafford style barn was born.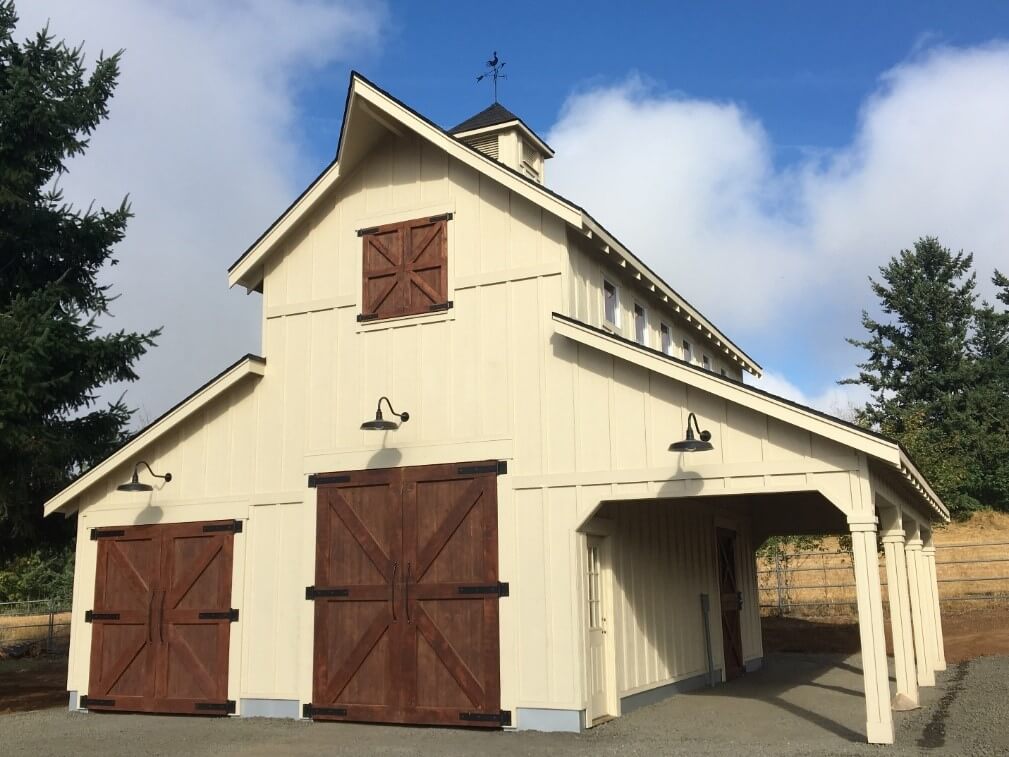 The barn is 34 x 30 with a horse stall and a loft inside.  The barn also has an open lean-to area for the animals to keep them out of the wind.  Originally, Dustin wanted a metal roof, but his home owner's association required a composition roof.  The plan was adjusted, and Stafford Structural Concepts and Design was able to perfectly match the barn roof to the design and color of the existing home.  This made the homeowners and their HOA very happy.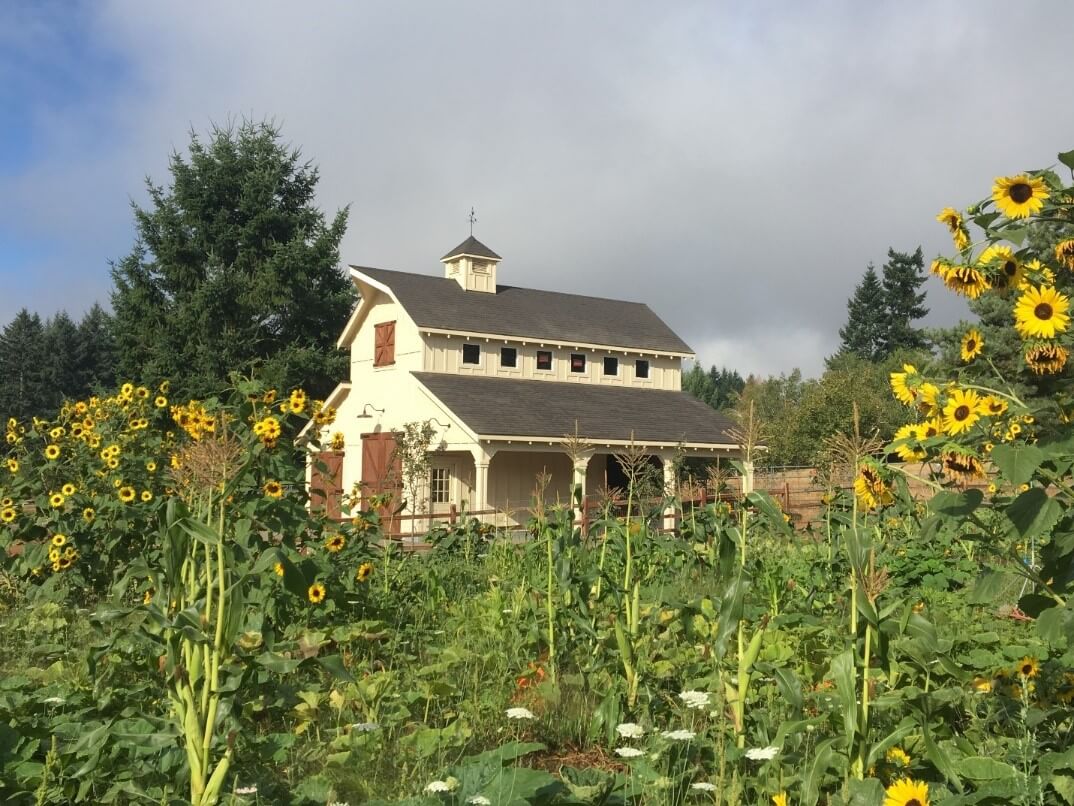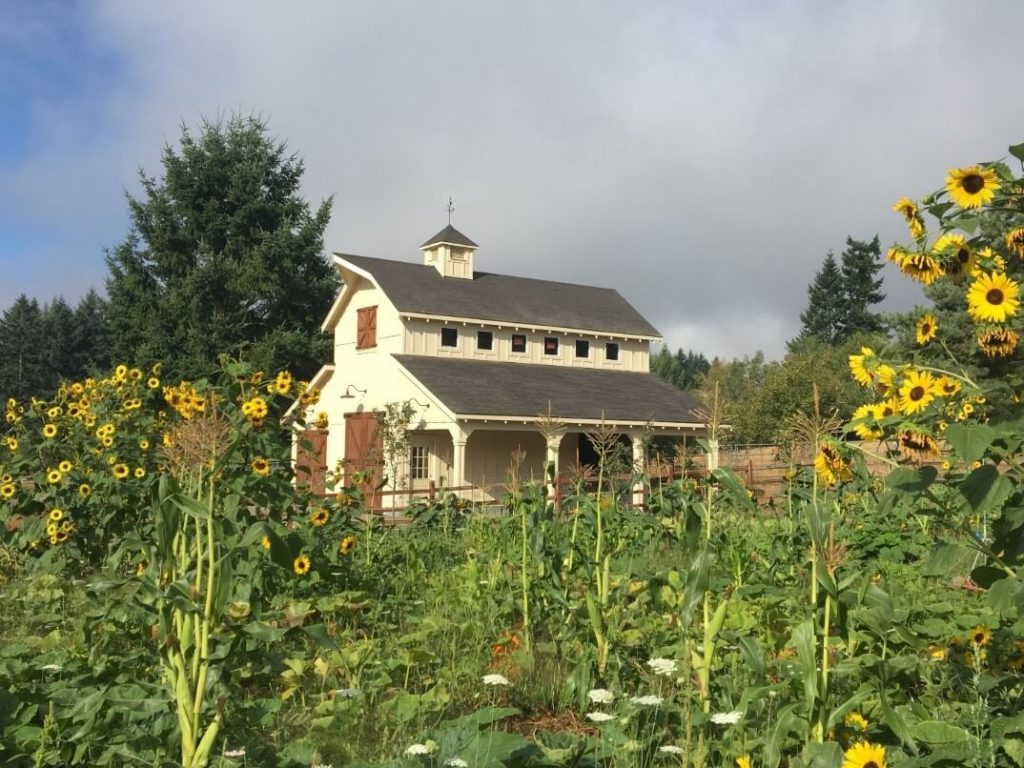 The materials used for the barn were pre-primed Smart Panel siding, and 16" SPF (Spruce/Pine/Fir) trim with a wood grain finish.  Stafford Structural Concepts and Design painted the barn and designed the electrical plan as well.  The interior was finished with a rough sawn 1 x 12 Doug Fir board (so it smells amazing).  The boards were left raw, with smooth trim pieces.  There is a vinyl floor in the loft, and a concrete floor in the horse stall.  The rest of the floor is gravel.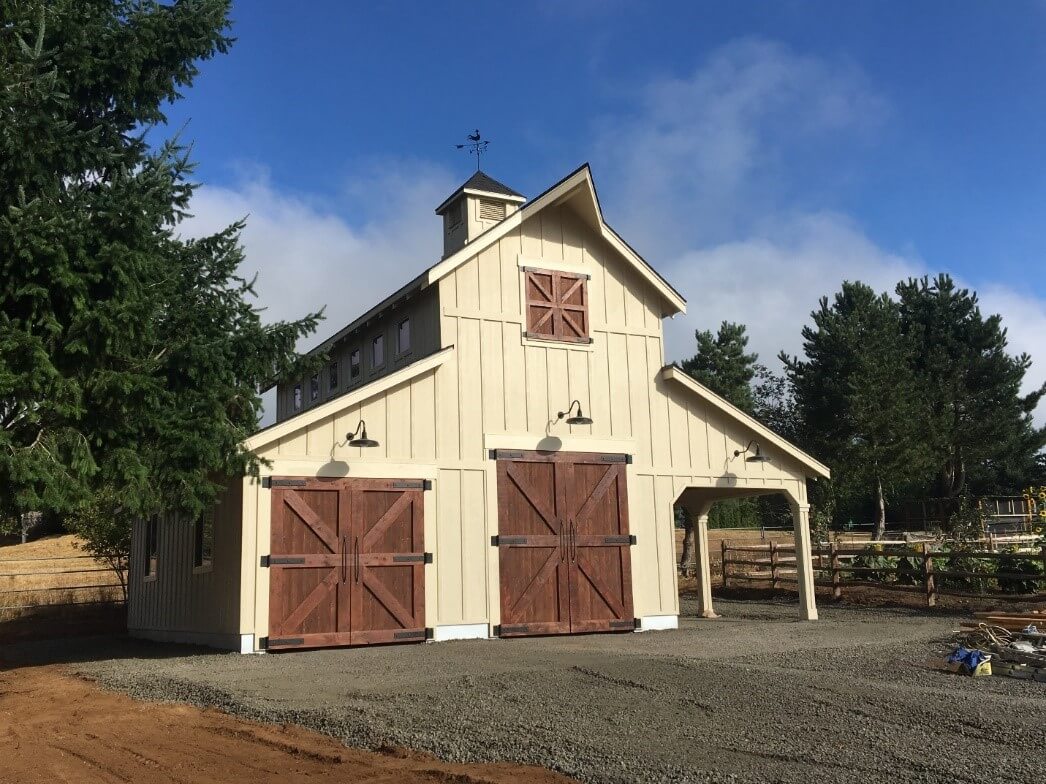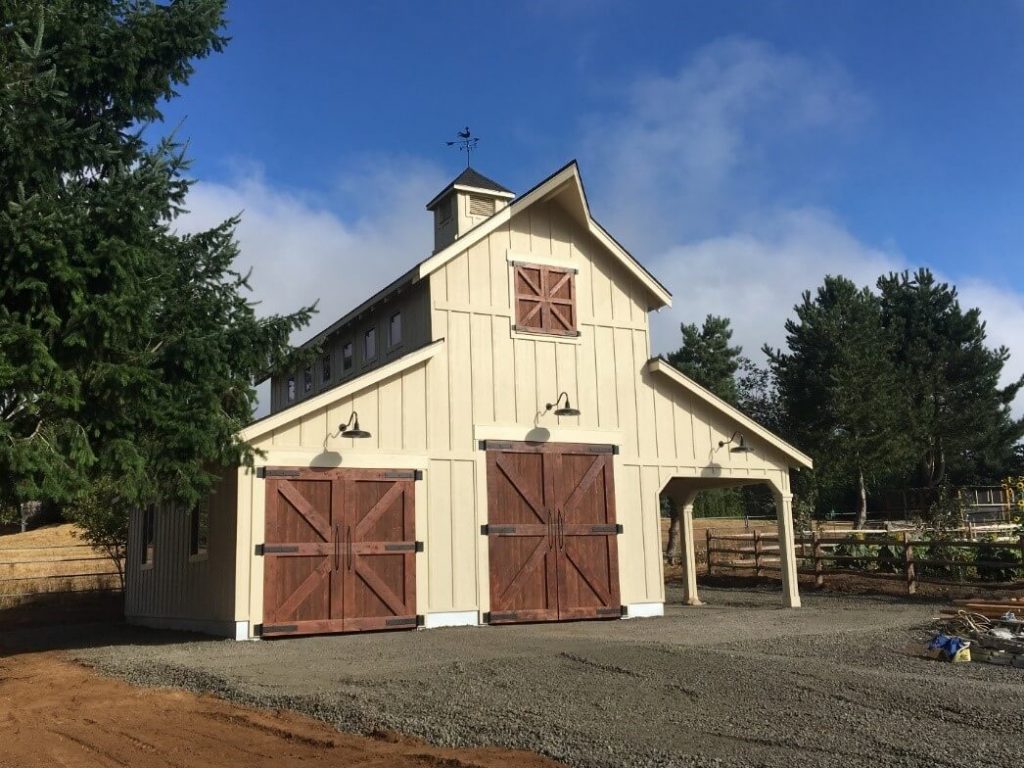 The barn also has a cupola and widow's peak.  The large barn doors were made from tight knot cedar and were stained on both sides.  A local metal artist made the weathervane for the cupola and all the hardware for the barn doors, including hinges and handles.  Underneath the lean-to, there is a Dutch paddock door.  There is an openable hay door in the front of the barn under the widow's peak and a rear 4 x 4 openable window so the horse can look outside.
The James Family's two boys use the new loft as a playroom and a movie room. The boys were very excited and loved asking all sorts of questions as the barn progressed. One boy asked Paul, "How do you DO this? It is so BIG!" Paul told him he just took things one step at a time.
Paul really enjoyed building for the James Family.  "They were such great clients, and we had a great working relationship.  It was such a beautiful setting and we tried to position the barn in the perfect spot.  Dustin trusted us with everything.  He just wanted the barn to look good and provide good resale value.  I loved talking with his boys, too.  They were very interested in the process."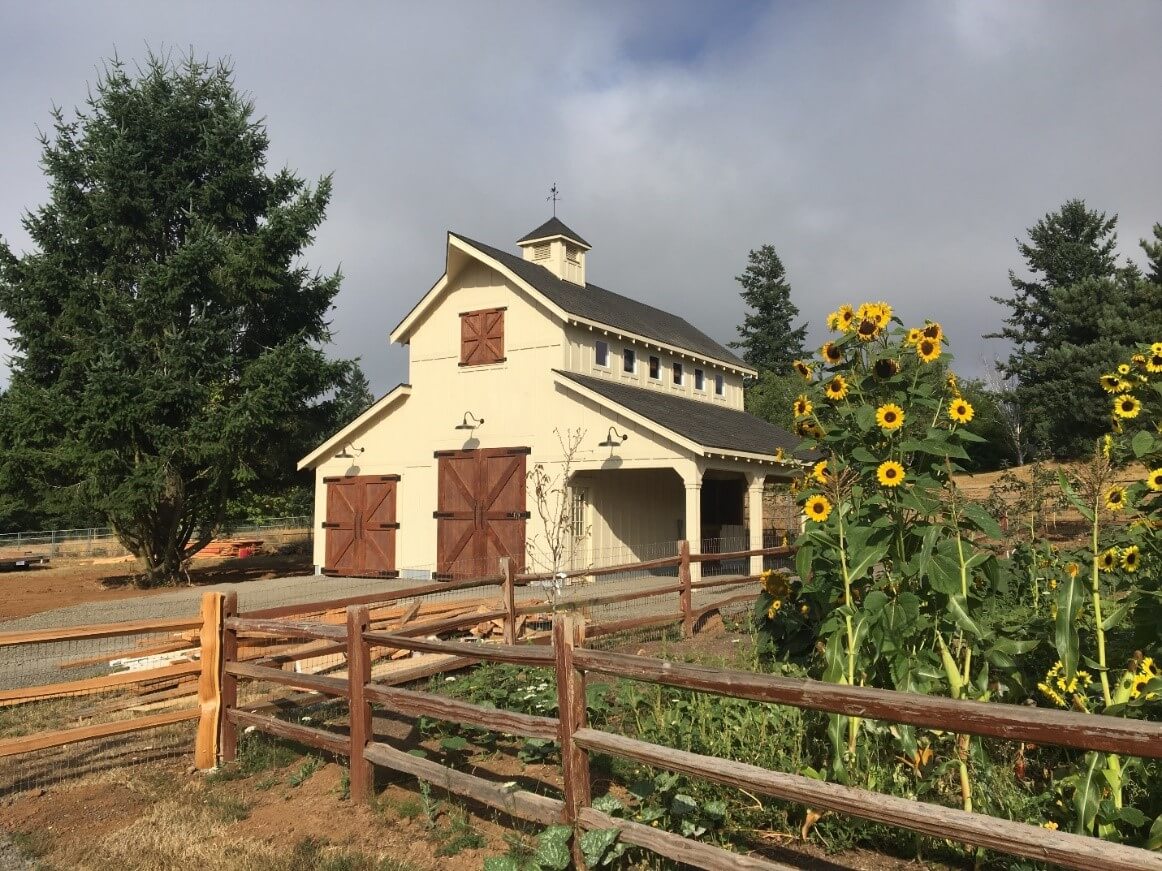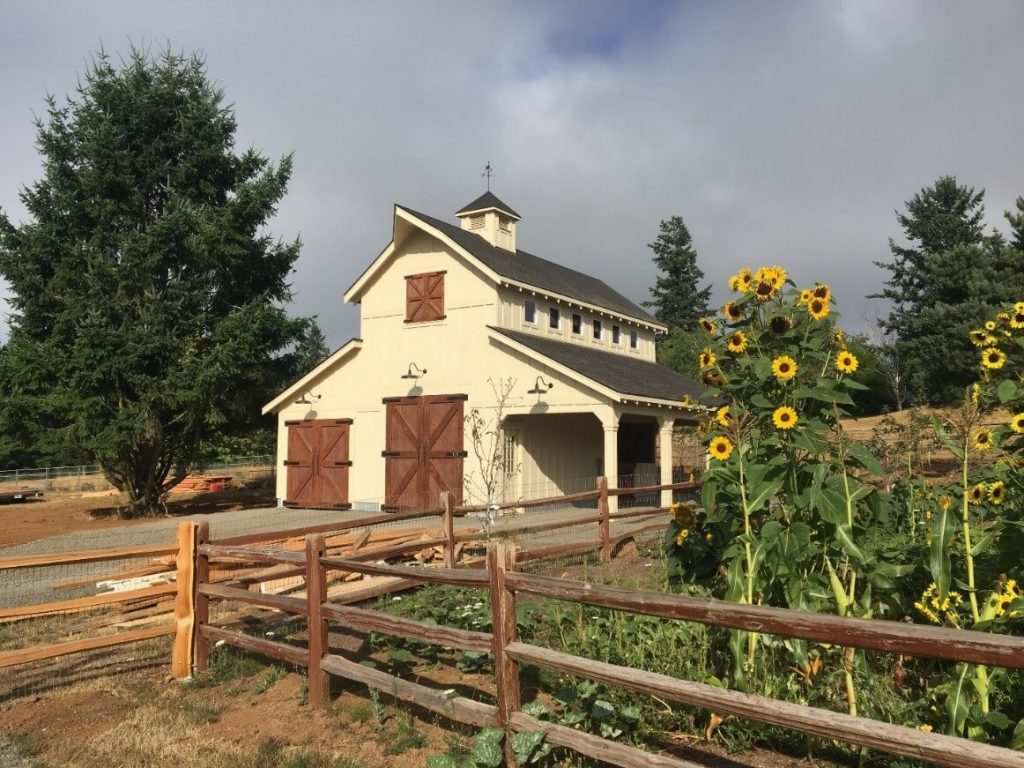 Dustin also enjoyed the process, saying, "It was beyond my expectations. Working with Paul was a great experience. He built my barn with an amazing eye for design and knew how best to fit the style of the barn with my existing home and property. His craftsmanship and attention to detail are incredible. He has a passion for each project, and it is clear by his work ethic and time he takes making sure everything is just how you would like it. Communication was excellent and I feel that the pricing of his projects accurately reflects the value for his skill and quality that you will get. I would recommend him and his company to anyone and would work with him again!"